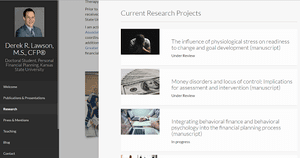 Derek R Lawson just launched www.derekrlawson.com.  He shares his experiences during his recent website launch.  He shares details about what platform he chose, how he found the person to build the site, and the greater purpose he wants the the website to serve.
Though the site is about him and his work, it is more than just a digital "CV" about his career and work.  The purpose of his website is to be a resource for both CFP® Practitioners and academics.  Derek is a "maven" for the financial planning profession and his website launch is a way to support the greater purpose he's making for himself within the financial planning community.
He works with with the FPA NexGen, NAPFA Genesis, KSU, Kitces (amongst others).  Derek spent 4 years as a practitioner but has now joined the academic world of Kansas State University.  He provides insight on his experience in "the biz" with what he is learning as he gets his doctorate.  He also shares a bit about what it's like to move through the undergraduate process, into studying financial planning in graduate school and how his work has changed in his doctoral studies.
Derek also shares how his community of friends encouraged him to launch his own website and how they see his work contributing to the greater body of financial planning knowledge.